The new heavy drone is better armed than a fighter
During a special military operation, Russian troops were badly annoyed by Ukrainian-made Turkish-made Bayraktar drones. Kyiv has purchased several dozen such drones armed with guided missiles. It took a lot of effort to destroy them. But, as it turns out, Turkey has much more powerful drones, and they may well be at the disposal of the armed forces of Ukraine (APU). These are heavy shock drones Akinci ("Akinchi").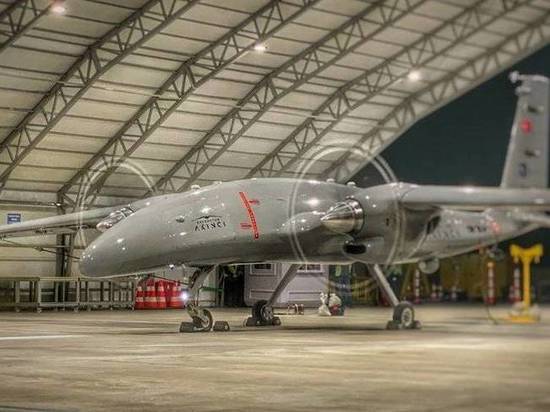 The Turkish Ministry of Defense released a video with the results of the tests "Akinci". It shows how ammunition launched from a drone simply blows up huge areas at the training ground. The defeat of manpower and equipment is one hundred percent.
The device weighing 5.5 tons can carry up to 1200 kilograms of guided missiles and adjustable bombs. Able to stay in the air for up to a day. Flight altitude – 12 kilometers. MK asked unmanned systems expert Denis Fedutinov to talk about the armament of the new Turkish drone.
According to him, one of the features of the Akinci unmanned aerial vehicle is its airborne strike weapon system. It can potentially include a very wide range of aircraft weapons.
"Firstly, it includes the same armament as used on the younger brother of Akinci – the Bayraktar TB2 drone," said Denis Fedutinov. – These are, in particular, MAM-C small-sized adjustable air bombs with semi-active laser guidance developed by the Turkish company Roketsan. They have a mass of 6.5 kg and are equipped with a high-explosive fragmentation warhead. There are also 22-kilogram guided air bombs with a MAM-L semi-active laser homing system with a thermobaric warhead.
In addition, according to the expert, the Akinci drone can use L-UMTAS anti-tank guided missiles weighing 37.5 kg with a semi-active laser homing system, as well as 70-mm Cirit missiles equipped with combat units of various types.
– There is also a wide range of other aerial bombs of various calibers, both high-precision and free-falling, – said Denis Fedutinov.
The drone also has a much more serious "long-range" weapon. This is a TUBITAK SAGE tactical cruise missile SOM-A with an inertial satellite guidance system with terrain correction. Starting weight – about 620 kg. It can hit ground targets at ranges up to 250 kilometers.
– Finally, the Akinci drone can carry the Gokdogan air-to-air missiles developed by the Turkish company TUBITAK SAGE with an infrared homing head and a launch range of 25-30 kilometers and Bozdogan with active radar head homing and a launch range of up to 65 kilometers.
So, the new Turkish drone is a serious weapon. Moreover, our heavy drones weighing several tons are still being developed. They will not appear in the army soon.
Even before the start of our special military operation, Ukraine and Turkey signed an agreement on cooperation in the field of unmanned aircraft. We agreed on the assembly of "bayraktars" under license on the territory of Ukraine. In addition, Ukrainian enterprises were to develop engines for Turkish drones. And this is not to mention the plan to supply Turkish drones to Ukraine.
In a word, Russian air defense may soon have new dangerous targets in Ukraine.