For research in the Central Arctic, Russia has created an ice-resistant self-propelled platform "North Pole". The platform will allow you to safely carry out a wide range of research in the Arctic Ocean.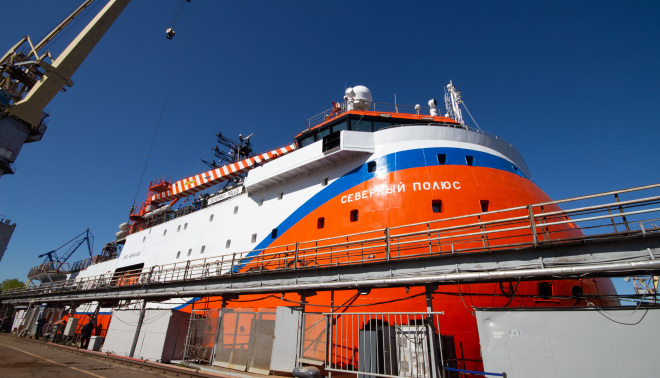 Ice-resistant platform "North Pole". Photo: aari.ru
Earlier, scientists had to conduct polar expeditions on ice floes drifting in the ocean and independently build research bases on them, which took a lot of time. The new LSP will become a ready and equipped base for expeditions in the Arctic region.
What is the "North Pole" platform?
LSP "North Pole" — This is a special-purpose ship with the functionality of a research center that will carry out year-round integrated research.
The ship was launched on December 18, 2020. On May 21, 2022, the platform went on sea trials.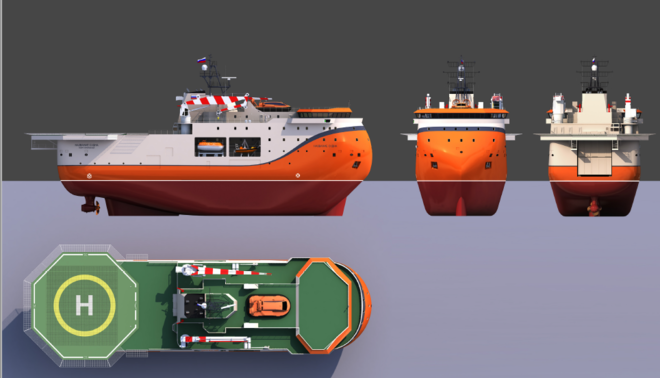 Ice-resistant platform "North Pole". Photo: aari.ru
The ship's hull is able to withstand the compression of multi-year ice, which is confirmed by model experiments. The self-propelled platform is capable of passing through the ice without involving an icebreaker, and can also receive heavy helicopters of the MI-8 AMT (Mi-17) type on board.
The LSP is capable of independently drifting and moving in ice at a speed of up to 10 knots. The stock of fuel placed on board will allow the platform to autonomously be on the expedition for up to two years.
How many people can be on the LSP "North Pole"?
14 crew members and 34 scientific personnel can be on a self-propelled platform at temperatures up to minus 50 degrees and humidity 85%.
Which laboratories will be placed on the ship?
15 scientific laboratories will be placed on board the platform, which allow for:
ionospheric observations;
geological, chemical and environmental studies;
studies of ice loads and ice fracture mechanics;
studies of acoustic tomography of the Arctic Basin;
studies of the boundary layer and free atmosphere;< /li>
magnetic and gravity research, etc.
Technical specifications
LSP length — 83.1 m.
Fuel autonomy — about 2 years
Service life — at least 25 years.
Source
Sources:
https://www.aari.ru/projects/lsp
https://www.korabel.ru /news/comments/v_sentyabre_rossiyskie_polyarniki_otpravyatsya_v_arktiku_na_noveyshey_dreyfuyuschey_stancii.html
Rate this article