Why this is not humiliating
The commander of the 36th Marine Brigade of the Armed Forces of Ukraine (AFU), Serhiy Volynsky ("Volyn"), who surrendered in Mariupol, was captured in camp for prisoners of war with a dustpan and a broom. The photo appeared on the web. Our publication found out what kind of work prisoners of war can do in captivity and what threatens in case of disobedience.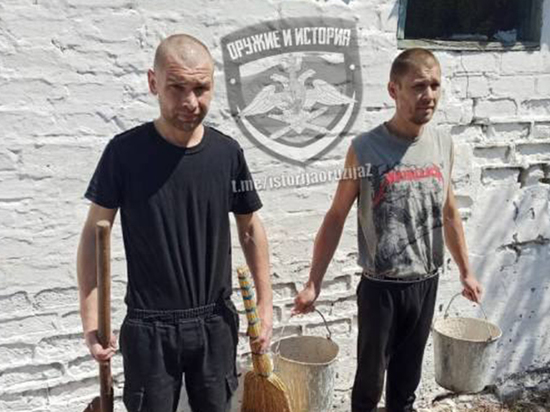 On one of the telegram channels on Tuesday, June 28, a photo report about the everyday life of Volyn appeared. in a prisoner of war camp. The official face of the "heroes" of "Azovstal" appeared in a new role — with a broom and a shovel. According to human rights activist Dmitry Agranovsky, the use of the labor of prisoners of war is not prohibited, the main thing is that the labor should not be humiliating or dangerous.
— It is possible to involve prisoners of war in labor," he said. – Including involvement in forced labor. The order of this attraction and in general all the details are regulated by the articles of the Geneva Convention of August 12, 1949, which is called "On the Treatment of Prisoners of War".
The procedure for bringing prisoners of war to work is in many ways similar to the procedure for attracting prisoners. Thus, humiliating working conditions and work that pose a danger to life and health are prohibited. But there is also a characteristic feature of prisoners of war that prisoners do not have — This is a ban on engaging in military work. As for this case, cleaning the premises where prisoners of war are kept is not a humiliating or dangerous job, so there is nothing illegal here.
— For example, the construction or repair of military facilities. By the way, the Germans during the Great Patriotic War actively violated this provision, and prisoners of war built numerous military structures.
— Hazardous work is explicitly stated in the Geneva Convention. For example, this is the clearance of minefields, especially if it is not carried out by specialists. And nothing is said about the humiliating type of work. At first I wanted to cite the work of sewers as an example, but then I remembered the work of sewers at my dacha and realized that this is a very important job. Everything is individual here.
Probably, if the same cesspool activity is performed by an unprepared person, not a specialist, and a prisoner of war is deliberately involved in it, then this can be considered humiliating work. In general, prisoners of war are forbidden to be subjected to any humiliation — they even have their insignia left; everyone should be provided with documents. Even valuable valuables are confiscated only when it is necessary to ensure security, because conflicts can arise over valuable things in the team.
— If it is not proved that these things are the object of robbery then they will have to be returned. On the other hand, if the victims recognize the things seized from the prisoners of war as their own, then such a prisoner of war may have big problems. Not sure if you need to carry gold with you. As for money, it is a fairly impersonal subject. And to prove that the money was stolen is quite difficult. If this is not done, then, based on the same Geneva Convention, they will have to be returned.
— through disciplinary action. But they also should not be humiliating, cruel or crippling. For example, as a punishment, it is forbidden to reduce the diet.