Plot RF special operation in Donbass and Ukraine
Sarmat-2 ultralight military vehicles deployed to Ukraine for special forces and airborne forces. These nimble, high-speed vehicles, capable of overcoming any terrain at high speeds, are ideal for operations behind enemy lines.
Project "Sarmat" was developed by order of the Russian Ministry of Defense by the Moscow Design Bureau "Tekhnika", which ordered these vehicles after analyzing a number of armed conflicts. The combat use of special forces has shown that mobile special forces groups require light transport with high mobility and cross-country characteristics, which is capable of ensuring the work of units in different terrain conditions. All-terrain vehicles of the "Sarmatov" type can be used in all situations where rapid transfer of people and cargo to areas with difficult terrain is required. In addition, they can be used in raids behind enemy lines.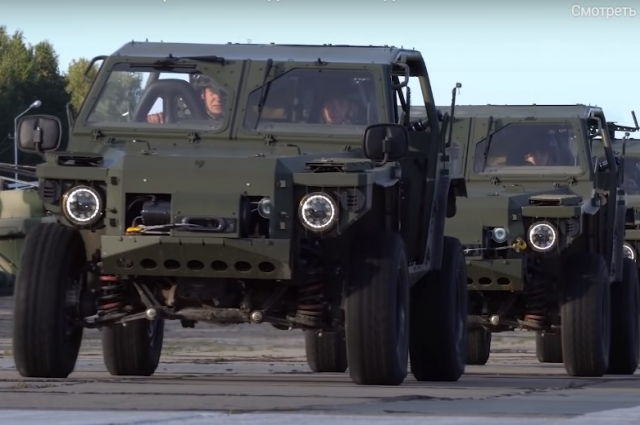 SUVs "Sarmat". Photo: http://www.youtube.com/
Special forces vehicle
Within the framework of the project "Sarmat-2" a lightweight two-axle all-wheel drive vehicle was created with ample opportunities for transporting goods or installing weapons. These cars have a bonnet layout. Such machines can be transported by air by army aviation helicopters on an external sling and carry a maximum allowable load of up to 600 kg with a total allowable gross vehicle weight of about 2000 kg. They were first shown during the Russian-Belarusian exercises "West-2021" units of the Airborne Forces of the Russian Federation.
In the cockpit "Sarmat-2" can accommodate four fighters with weapons. Instead of a solid roof on the car, safety arcs with jumpers are used. They can also be used to install one or another infantry weapon. First of all, it is planned to mount existing machine guns of standard and large caliber, a 7.62 mm PKM machine gun, a 12.7 mm Kord machine gun, and a 30 mm AGS-17 Plamya automatic grenade launcher. But the possibility of using other weapons is not ruled out.
Engine from Niva
Chassis "Sarmat" It is built on the basis of bridges with spring suspension, has a two-axle wheel formula 4×4, the transmission includes interaxle and interwheel differentials with blocking, which in total ensures movement over rough terrain at high speeds. The car received a gasoline engine from the "Niva" with a capacity of 105 liters. with., which allows you to reach a speed of 130 km/h.
The machine is simple in design and does not need particularly complex components, therefore it has high maintainability, which is important in combat conditions. The design is made according to the bonnet layout with a central cabin and a rear cargo area. The cabin is made open. Length — 3.8m, width 1.8m, height — 2m. Gross weight — 2100kg with load capacity 600kg.
To be continued
At present, Sarmat-3 has been created, which is being tested. The general principle of the machine remained the same, but a number of characteristics were improved. So, the car became larger and heavier, and at the same time, the carrying capacity increased. The length of "Sarmat-3" grew to 3.9 m, width – up to 2 m. Gross weight – 3.5 tons with a load capacity of 1.5 tons. The gasoline engine was replaced with a diesel engine, a Chinese-made engine with a capacity of 153 liters is used. With. The machine shows higher driving performance. So, the maximum speed increased to 150 km/h. Power reserve — 800 km. Mobility on rough terrain is provided by a successful chassis design and remains at the same level. Several configurations are offered, in particular, the rear of the body can be used for mounting seats or for installing a cargo area-body. The machine can be installed from 2 to 8 seats. Devices for installing various weapons have been saved.
Rate the material